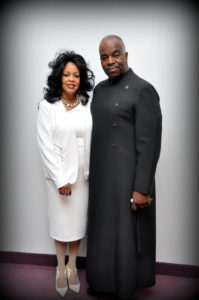 Hiram McBurrows Jr., Pastor
Reverend "Mack," as he is affectionately called by many who love him, is the primary teaching pastor. He has a passion for carefully unpacking the truths of Scripture and making them relevant to today's moral and cultural climate. Elected Pastor of Romulus Community Baptist Church on April 16th, 1994, he accepted this divine assignment with gratitude and devotion and has served faithfully as our spiritual shepherd. A visionary leader with a heart for God, he came prepared to lead RCBC into the new millennium by setting and achieving ambitious outreach, growth, and expansion goals for our church.
Before being called to lead Romulus Community Baptist Church, Reverend McBurrows, his wife Angela and children were members of Leland Missionary Baptist Church of Detroit, Michigan.
You can contact the Pastor at phmj@sbcglobal.net for:
Weddings, Funerals, Baptisms, Church Membership, Marriage or Personal Counseling, Sick Visitation and other requests.
Pastor McBurrows will contact you as soon as possible.